Skip to Content
Residential HVAC Services in Central Valley, CA
Premier Residential HVAC Installation and Repair
The comfort of your home is crucial. As such, choosing a reliable HVAC company to replace or install your residential HVAC system is important. For HVAC packaged units and split systems, customers in Central Valley, CA rely on Air Tech Heating and Air Conditioning Service Co. for outstanding residential HVAC services that check all the boxes.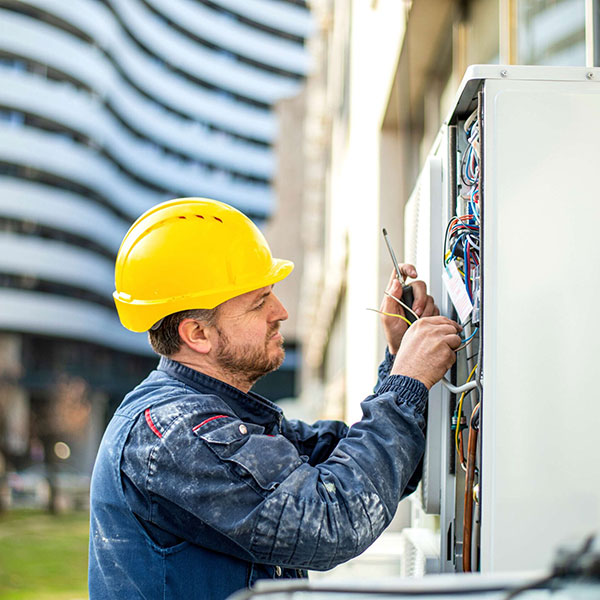 Understanding HVAC Packaged Units
Residential HVAC packaged units comprise an HVAC system that houses all components, including the condenser, compressor, and evaporator coil, in a single metal cabinet placed in the ceiling or outside. Ductwork is placed to facilitate even airflow with the controls for the packaged unit located in the home.
Understanding HVAC Split Systems
Residential HVAC split systems are ideal for homes with additional indoor space to house the HVAC unit. Split systems include an outdoor fixture that stores the compressor and condenser. At the same time, the indoor cabinet holds the evaporator coil, an air handler that moves air through a ductwork system, and a line set that connects the outdoor and indoor parts.
The Benefits of HVAC Packaged Units
The benefits of a residential HVAC packaged unit include:
Enhanced efficiency as they are pre-assembled
Straightforward installation as they include a single component
Cost-effective installation as they require less labor
They are minimally invasive as they do not require multiple refrigerant lines
Good Seasonal Energy Efficiency Ratio ratings between 13 to 18
Reduced noise as the unit is placed outside
The Benefits of HVAC Split Systems
The benefits of a residential HVAC split system include:
Higher Seasonal Energy Efficiency Ratio ratings of 25 or higher
Flexible unit placement due to multiple components and compact design
Ductless mini-split systems offer the lowest maintenance demands of all HVAC systems
Increase your property's resale value
Considerations for Residential HVAC Packaged Units
There are a few essential factors to consider when choosing an HVAC packaged unit. As the units are placed on the roof, your roof must be well-insulated to deter leaks and other damage. Furthermore, it's important to consider that as these units are outside, they are prone to weather deterioration or pests and offer a shorter lifespan.
Considerations for Residential HVAC Split Systems
Residential HVAC split systems require more upfront expenditure as they are labor-intensive installation jobs. When choosing a company to perform your residential HVAC installation, choosing someone reputable is essential, as poor installation can result in decreased efficiency.  Additionally, the multiple components make these systems more prone to leaks and inefficiencies.
Choosing the Right Residential HVAC System
When determining the right residential HVAC system for your needs it's important to consider the size of your home. Smaller homes may be best suited for packaged units with compact HVAC solutions. Larger homes with room for multiple components are better off with a split system.
Choose Our Trusted Experts for Residential HVAC Services
From packaged units to split systems and reliable residential HVAC maintenance, Air Tech Heating & Air Conditioning Service Co. is here to ensure you get the HVAC solutions you need. We use the most innovative, energy-efficient systems and employ the latest techniques to ensure your HVAC service encompasses the crucial factors of exceptional service.
Contact Us Today for Your Residential HVAC Service Needs
Whether you're interested in a convenient and minimally invasive packaged HVAC system or an energy-efficient split system, Air Tech Heating & Air Conditioning Service Co. is here to help you ensure you receive nothing short of an exceptionally residential HVAC installation solution. Contact our friendly team today to schedule a consultation with our experts.
Schedule an Appointment Today!