Skip to Content
Residential and Commercial HVAC Services
HVAC From an Experienced & Knowledgeable Company
Home and businesses throughout Central Valley, California, and the surrounding communities rely on their HVAC system to keep their property comfortable throughout the year. So, it's crucial that your heating and air conditioning system is working efficiently. If your HVAC system isn't keeping your property comfortable or it's becoming too expensive to run your system, contact the experts at Air Tech HVAC. Our knowledgeable and trained team of HVAC technicians offers comprehensive air conditioner and heater repair, installation, and maintenance services. We have been assisting residential and commercial customers for nearly three decades, and we're confident we can help you too. We even offer emergency services when you're experiencing issues that require an immediate response. Learn more about our solutions and schedule your appointment today.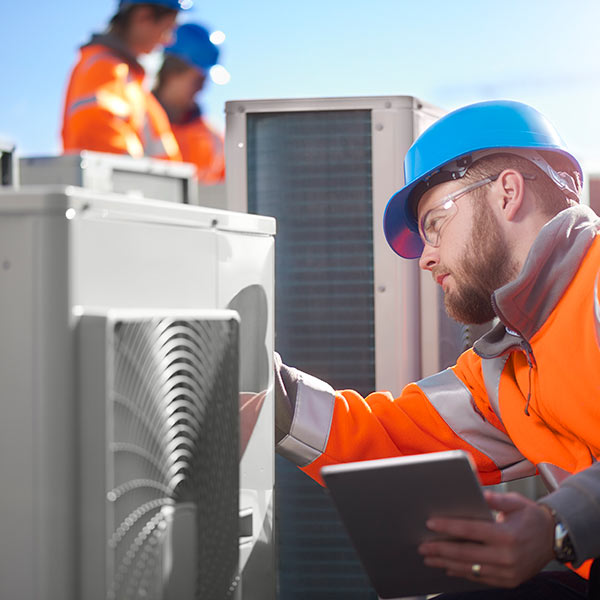 When Should I Schedule My Commercial HVAC Repair?
Most commercial HVAC units will last anywhere between 10 to 15 years, depending on the amount of use and the type of system installed. As your commercial system reaches the end of its life, you may be required to schedule repairs more frequently. When you choose us, we follow a comprehensive inspection of your system to ensure we've uncovered the cause of the issues and take the necessary steps to fix it. There are several noticeable signs that show it's time to schedule an HVAC repair service.
Increased Energy Costs – Increased energy costs may not be as noticeable to some companies. However, a significant increase in your energy bill may indicate your HVAC system is working hard to produce the same level of comfort. When this happens, you can count on us to find the cause of the issue to help keep your operating costs low.
Unusual Noises – Grinding and rattling noises coming from your HVAC system could indicate significant damage to your system, even if it's still producing hot or cold air. The issue will only get worse and could lead to total system failure.
Odd Odors – When strange odors coming from your HVAC system could be caused by any number of issues, including mold or mildew in the ductwork, an animal, or a problem with the heat exchange. Whatever the issues, you can rely on us to uncover them and ensure your property is comfortable.
Low Airflow – If you have low airflow, you're not getting the comfort you need from your HVAC system. A blockage can cause low airflow in the vents. But someone times it could be that the exhaust vents are accidentally shut.
Why are HVAC Maintenance Services Important?
The professionals at Air Tech HVAC provide ongoing HVAC maintenance services for our residential and commercial customers. We recommend having your system inspected at least twice a year during the spring and fall seasons. We may recommend additional maintenance depending on your system's age. With our maintenance contracts, we follow a comprehensive inspection to ensure that your system is operating at maximum efficiency and is ready for the winter and summer seasons. Learn more about the benefits of our routine maintenance service:
Improve System Lifespan – One of the most significant benefits of our maintenance service is increasing the lifespan of your HVAC system. When minor issues begin to add up, it can lead to total system failure. Our technicians will ensure your HVAC system is working correctly.
Reduces Unexpected Repairs – No one likes paying for unexpected HVAC repair costs. With routine maintenance, our technicians will note any potential issues so you can be prepared.
Better Air Quality – When the air filter is clogged with dust and debris, it can significantly reduce the air quality. During your system's routine maintenance, we'll replace the air filter.
Lower Operation Cost – When your system is operating at peak efficiency, it costs less to run. Our ongoing maintenance service will help ensure you get the most value from your heating and air conditioning systems.
Our Complete HVAC Services
Home and business owners rely on Air Tech HVAC for complete HVAC solutions. As the area's premier leader, we leverage our knowledge and access to the proper tools and parts to handle any commercial or residential HVAC project. Whether you own a single-family home or a multi-story office unit, our team can assist you. Our complete HVAC services include:
New Installation – If your heating or air conditioning system is reaching the end of its life, then it may be time to install a new system. AT Air Tech HVAC, we carry a wide selection of the industry's leaders in HVAC units. We also offer installation services for new commercial and residential building projects.
Repair – Knowing a reliable and experienced HVAC specialist you can trust to complete any repair services is essential for home and business owners throughout the area. As a licensed HVAC company, we have the necessary parts and tools to complete any repairs to your heating or air conditioning system.
Maintenance – Proper maintenance of your HVAC system is essential to ensuring your property is comfortable throughout the year. We offer quarterly maintenance contracts to ensure your system is working at peak efficiency. If we encounter an issue, you can feel confident our team can handle it.
Choose the Area's Premier HVAC Company
If you own property in Central Valley, California, or the surrounding communities, you can count on Air Tech HVAC to handle any installation, repairs, and maintenance requirements. Since 1993, we've been the trusted leader residential and commercial customers choose because we offer fair and upfront pricing. We are licensed, bonded, and insured, so you can count on us to deliver exceptional services. As a member of the BBB with an A+ rating, we have a reputation for maintaining a high level of customer satisfaction. Contact our technicians today for all your HVAC service needs including air conditioning, heating, and refrigeration. Contact us today to schedule an appointment with our technicians.
Schedule an Appointment Today!