Skip to Content
Commercial Refrigeration Repair in Central Valley, CA
Complete Commercial Refrigeration Services by Air Tech HVAC
Specific industries rely on refrigeration units to operate their business. If your commercial refrigeration unit is broken, it can cause significant difficulty for your business, including the inability to store your products, profit loss, and even cause your store to shut down. Luckily, the team of trained HVAC professionals at Air Tech HVAC specializes in commercial refrigeration repair and replacement services. These units include ice machines, walk-in freezers, and walk-in refrigerators. We've been Central Valley's leader in commercial refrigeration services since 1993. Our team is committed to ensuring your refrigeration unit is working at total efficiency. We have experience repairing various industry's top brands, including True, Everest, Hoshizaki, and Manitowoc. Contact us today to schedule your repair service.
Common Signs You Need Commercial Refrigeration Repair
As a business owner, you need a reliable team of professionals to handle any commercial refrigeration repair services. With nearly three decades of experience, we continually stay up to date on the latest tools and technology to deliver exceptional repair services. When you contact us for a repair service, our team will conduct a comprehensive inspection of your unit to ensure the repair is completed to first time around, saving you time and money. Some of the most common signs your commercial refrigeration system needs to be checked by a trained professional include:
Inconsistent Temperature – Maintaining a consistent temperature for your beverages and freezer items is crucial for your profit margins. Uneven temperatures can spoil food, causing you to lose money and health issues. Our team has the necessary tools to repair your refrigerator to ensure the temperature stays consistent.
Ice Forming on the Outside – If you notice ice forming on the outside of your refrigeration unit, then it could mean there's an issue with airflow. Ice on the doors, the evaporator coils, or inside the freezer isn't normal. Our team can identify the problem you're experiencing and make the necessary repairs to correct it.
Puddles of Water – Puddles of water in or around your refrigeration unit typically indicate there's an issue with the defrost drain. Sometimes ice will not properly defrost, causing the line to clog and overflow. Puddles, especially in your store, pose a significant fall risk.
Damaged Doors – Damaged doors that don't close all the way lead to energy loss and increased electricity costs. Issues with doors are especially prevalent with beverage refrigerators that customers use. Save money over the long run by having your door seal repaired or replaced by our professionals.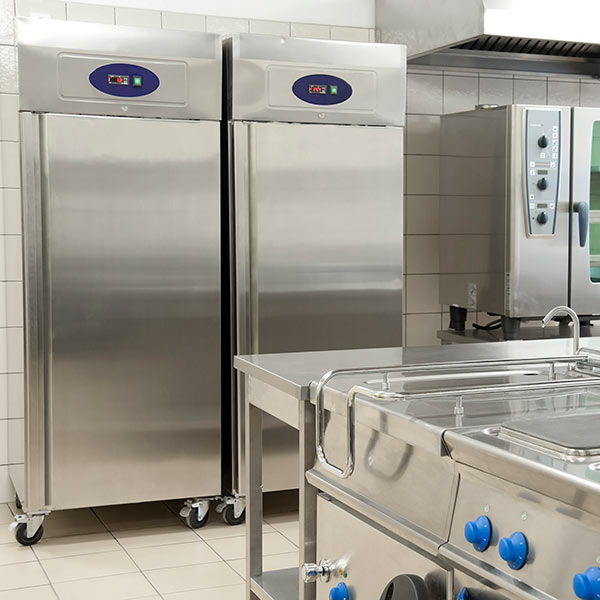 Why We're the Area's Premier Commercial Refrigeration Experts
Business owners throughout Central Valley, California, and the nearby communities count on us for reliable commercial refrigeration repair and replacement services. We have assisted hundreds of commercial customers since 1993. And we continue to strive to provide the very best value in the industry. More customers choose us because:
We Offer Affordable Rates
We're Certified by the BBB
We're Licensed, Bonded, and Insured
Locally-Owned and Operated
We offer Emergency Services
Why More Businesses Choose Us for Commercial Refrigeration
Businesses throughout Central Valley, California, and the surrounding area choose us for all their commercial refrigeration repair and installation services. Ensuring your commercial ice machines, walk-in freezers, and walk-in refrigerators are working correctly is essential to keeping your business operating without interruption. Discover why more companies choose us for their refrigeration services:
Affordable – We use high-quality replacement parts to ensure your refrigeration unit is repaired correctly. Proper repairs will reduce the operation costs of inefficient refrigeration units, which will save you money.
Experienced – Our team of experienced technicians has been serving customers for decades. No matter the issue or the type of refrigeration unit, you can feel confident in our ability to repair it.
Trusted – As a licensed and local-operated team, our dedication to customer service is the hallmark of our company. We show up when we say we will and provide honest and affordable services to our customers.
Licensed – Don't trust your commercial refrigeration services to just anyone. Our licensed team will ensure that the repairs are completed to manufacturers' standards.
Schedule Your Repair or Installation Service
Your business can't function when your refrigeration unit is malfunctioning. When you choose Air Tech HVAC, you can feel confident we'll provide the necessary repair and replacement services for your commercial refrigeration unit. Once our team arrives, we'll conduct a comprehensive inspection of the refrigeration unit and note any issues we find. Once complete, we'll recommend whether the system can be repaired or needs to be replaced. We offer high-quality replacement parts for the top brands in the industry. If your refrigeration unit is damaged, contact us today to schedule your repair.
Schedule an Appointment Today!